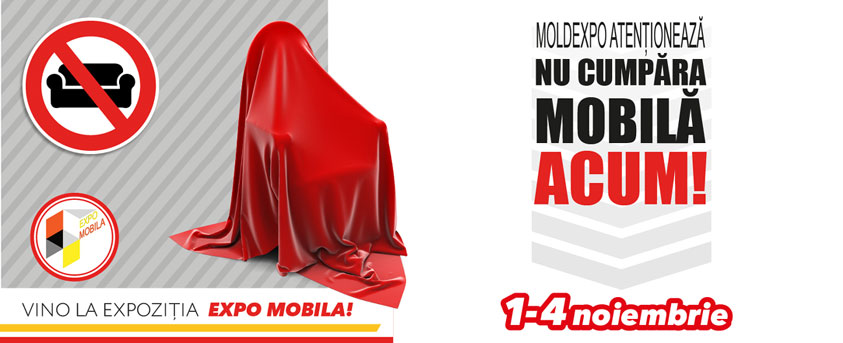 Don't buy furniture now – wait for the exhibition EXPO MOBILA!
From 1 to 4 November, at the International Exhibition Center Moldexpo will be held the 19th EXPO MOBILA – the International specialized exhibition of furniture, equipment, tools, raw materials and accessories for furniture manufacture.
Organizer: IEC "Moldexpo" SA
Official support: Ministry of Economy and Infrastructure of the Republic of Moldova
Exhibition partner: ODIMM
Program partner: School of Business Communications
This year the exhibition brought together about 35 furniture companies from the Republic of Moldova and Romania. Participants will present a wide range of furniture - from kitchen, bedroom sets, cabinet and upholstered furniture, as well as accessories and fabrics. At the stand of all exhibitors you will find discounts and special offers,  only from 1 to 4 November!
What kind of interesting things the exhibitors prepared for us this time?
The showroom of Romanian furniture Clasic Mobili will present attractive discounts for leather sofas. Special offers for bedrooms, living rooms, kitchens, children's rooms, and closets will be available at the stand of the Mebelissimo company. A soft and comfortable Peter sofa is the novelty of the furniture salon "Domino", while Artvent RTD will present a corner sofa of its own production. You can buy high-quality Italian sofas, tables and chairs at a discount at the stand of Domus Italia.
A variety of modular and upholstered furniture, kitchens and cabinet furniture will be presented by the chain of furniture stores mobiland.md, and the Office Line series of office furniture will be displayed at the stand of Linia company. Furniture, mattresses, pillows, blankets, home textiles, bathroom products will be offered by the JYSK Moldova chain of stores.
A wide assortment of orthopedic mattresses and pillows will be offered by Almir SRL and Oskar.md. Artizana Factory will display natural fur carpets.
Furniture manufacturers will be interested in fabrics, leather and leather substitutes showcased by the Romanian company Davis Fabrics România, but also by a line of accessories for kitchen, bathroom and office from the company FECA Moldova. Moldovan manufacturer Montebella will present stylish kitchen sinks made in artificial stone.
Equipment for furniture production from Germany, Italy, Bulgaria etc. will be presented to  by ABN-Echipamente. Landau Impex from Romania  will present equipment, fabrics, and accessories. Another exhibitor from Romania - Euro Abrazive - will offer abrasive materials for the furniture industry.
For the leaders of furniture businesses, the partner of the exhibition - School of Business Communications - will hold a training seminar on the topic "How a sales consultant kills the sale of furniture." One can learn how to work with a buyer, how to overcome the doubts and objections of customers and learn new formulas for selling furniture  in the framework of this seminar at the exhibition EXPO MOBILA 2018.
Once again: discounts and special offers are available at the stands of all exhibitors
at EXPO MOBILA 2018 for only 4 days - from 1 to 4 November at the IEC Moldexpo.